I remember meeting Joanna (identity changed for the sake of privacy) when I first started practice. When I went into the waiting room I saw a lady sitting there who looked tired.
When she came back to the office she sat down and looked at me with tearful eyes. She told me "I am depressed. I am exhausted and tired. I just want to feel at peace. I need someone to talk to".
It was a privilege to work with Joanna. She was smart and wanted to feel happy again. Over time she started to feel more upbeat. She starting sleeping better and had more energy. At her last session she said "I am so glad I found you to talk to. I've stopped arguing so much with my family members and I have so much more energy thank you for helping me".
I still occasionally hear from Joanna through email she continues to do well and to meet her goals. It's having the chance to work with people like Joanna that makes me love my job so much. If you would like someone to listen to you just give me a call at 724-797-5959.
I look forward to meeting you!
My name is Charlotte Schott. I have been counseling informally most of my life! I love helping people to feel better and to live better. I love helping families to enjoy being together again. I believe that God prepares people to help each other. He has gifted me with the gift of exhortation. I consider exhortation to be encouragement and hope giving. The Lord provides love and comfort through a relationship with him. I love helping people to feel his healing touch. That is why I have dedicated myself to becoming skilled in the art of counseling. To that end,I am a licensed Professional Counselor in the state of Pennsylvania. I have been in practice for 7 years. Since that time I have received training in marriage and relationship counseling and in trauma counseling for children and youth. In particular I am a level 2 Gottman Trained Marriage and Relationship Counselor. I also am a certified Trauma Focused Cognitive Behavioral Therapist which means that I help children who have experienced trauma or traumatic grief to overcome their trauma and then they are able to live life like they would have had they not experienced trauma. I am able to help clients over come problems like depression, anxiety, and family discord. I also have a experience counseling children using play therapy and family therapy. In my spare time I enjoy riding horses, reading, and playing with house cleaning robots! I would love to meet you. Please call 724-797-5959.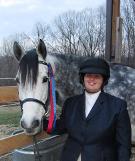 125 North 1st Street
Jeannette, PA, 15644
724-797-5959